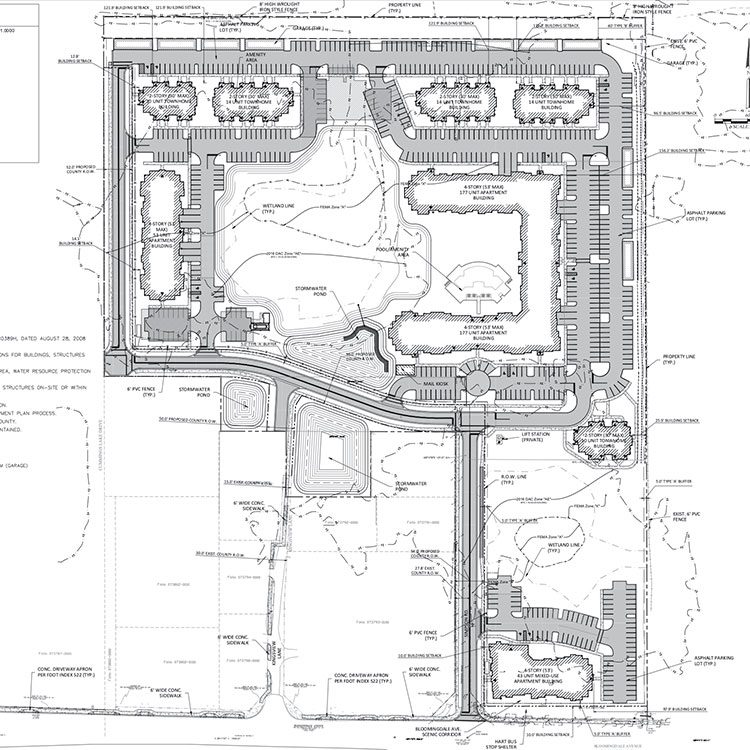 This successful project consisted of 332 multifamily apartments in a mix of 2 story and 4 story buildings.  Situated on Bloomingdale Avenue in Brandon, FL, the property includes just over 21 acres made up of six separate tax parcels owned by four different property owners.  The nearly two-year entitlement process included changing the land use from the allowed density of 6 units per acre to 20 units per acre.  Increasing density on an infill property with adjacent single-family homes and other neighbors always comes with a unique set of challenges.   To add to those, about halfway through our entitlement process, there was a local election which served to change the make-up of the Board of County Commissioners, the final voting authority on rezoning's.  Almost overnight the Board went from having a balanced approach to new development to anti-development.
Our project was well planned enough that we got a continuance rather than a straight denial from the new Board.  We went to work straight away in meeting with all the elected officials, various community stakeholders, and all levels of County staff and administration to create a project that worked for everyone.  In the end, we received praise from the BOCC and received a unanimous approval – a testament to our ability to be successful in the most challenging entitlement environments.
Thanks to all our hard work, the community will now enjoy a project that was designed to accommodate its unique surroundings.  We'd like to give a special thanks to Integra Land Company, whom we sold the project to for working with us and all the various parties to create a project that's second to none in the area and undoubtedly will be successful for all the years to come.