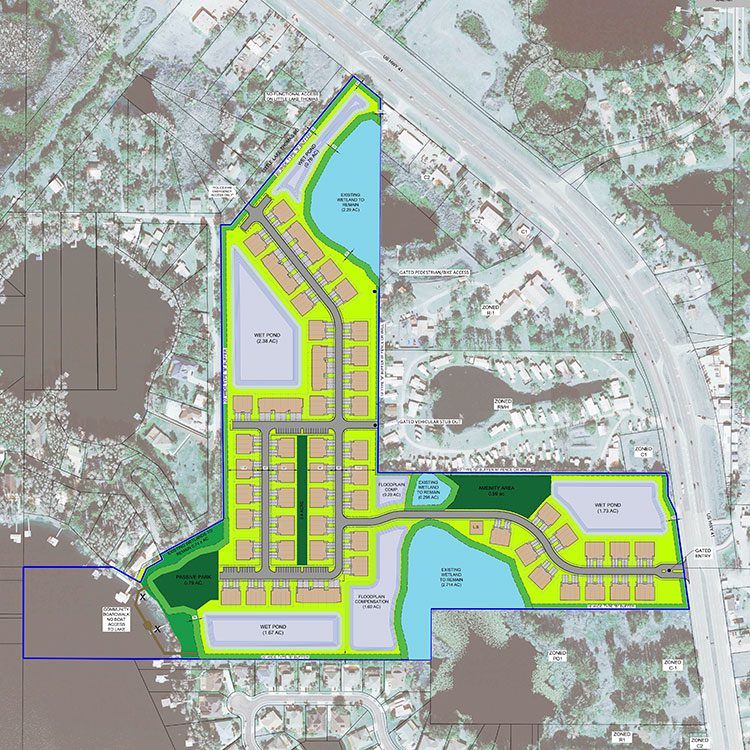 Little Lake Thomas is another infill development we successfully completed.  It consists of 218 two-story townhomes on approximately 45 acres.  It has frontage on the 160+ acre Lake Thomas in Land O' Lakes, FL.  The three separate tax parcels were assembled from two different property owners.  When we came upon this property, we were told it had been under contract three times in the past and each time the project failed to close.  Where others met failure, we found success.
The key to unlocking the value in this property was to do a comprehensive plan amendment and a rezoning to allow for townhomes.  While it's always easier said than done, we were able to navigate our way through the fairly complex process that allowed us to increase the density while providing the neighbors, County staff, and elected officials the assurances and guarantees necessary to make this project compatible with its surroundings.
The end result is a testament to our ability to make lemonade out of lemons.  We're sure Lennar Homes, America's second largest home builder, who we sold the project to, and the residents of the Townhomes at Little Lake Thomas will fit very nicely in the community and will be proud to call the area home for many years to come.